Chinese rocket sector's 'passionate genius' recognized with Labor Medal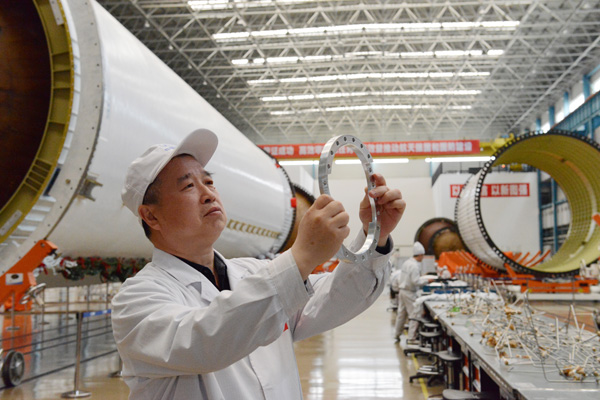 Cui Yun, an iconic figure in China's rocket-manufacturing sector, is known for his stern face.
Colleagues of the deputy head of the general assembly department at Tianjin Long March Launch Vehicle Manufacturing describe him as a "passionate genius".
Recently, he was awarded the National May 1 Labor Medal, the top honor granted to the country's most outstanding workers.
In 1982, Cui started working at the First Research Institute under the China Aerospace Science and Technology Corp before transferring to Tianjin Long March Launch Vehicle Manufacturing in 2013. He has taken part in the launch of around 70 different rockets.
Beginning his career as a junior engineer, Cui has worked very hard to master a number of skills, working as a miller, lathe operator, welder and electronic engineer while completing his university degree during his spare time.
He currently serves as a technical leader in the assembly of carrier rockets.
During his 37-year career, he has never ceased in his efforts to study and invent.
Many of his inventions have garnered high praise from foreign counterparts.
He is always striving to make his work "perfect" and insists on the principle that "rocket manufacturing involves lifelong study".
The 58-year-old is reported to cover around 10 kilometers a day by walking through the workshop to examine the rockets and inspect every screw, as well as mentor staff members.
During his inspection, Zhang Linqing, an apprentice engineer, says: "We are 'afraid' of him, and we do get tense because of his stern face and his diligence.
"However, his wisdom and experience continue to impress and inspire us. He warns us that, in rocket manufacturing, there is no second opportunity to make up for even the tiniest mistake."
Cui says his diligent working spirit was formed at a young age, recalling that on July 12, 1990, before the launch of a rocket, a leakage occurred in a booster.
He and his colleagues were trying to prevent the situation from worsening, when the leakage of nitrogen tetroxide damaged 75 percent of his lung and killed a colleague.
The incident spurred him on and inspired him to master all areas of rocket manufacturing and acquire as much knowledge about launching rockets as possible.
Nowadays, Cui is lauded as "Mr Know Everything" in the rocket-manufacturing field.
Every week, Cui gives an examination to his apprentices. "Very often, his questions are not directly related to our work," his apprentice, Wang Lu, says.
"However, Cui says we should master all the knowledge about the rocket instead of just the parts we are manufacturing."
Sometimes, during work, tensions overflow and quarrels occur, because Cui's self-confessed "bad temper". He admits that he regrets letting it get the better of him sometimes.
However, his colleagues admire and recognize his passion.
In the assembly department, the age of the staff members averages only 26. Although they are working for important scientific and technological missions of the country, their working experience averages between just one to six years. It is crucial to help them improve their capabilities and competence in their work, Cui notes.
"I will keep on warning, criticizing and quarreling. When I get even older, and I'm too weak to walk unaided, I will still knock their heads with my crutch," he says.